Handmade art painting from photos –
Available on request
Professional art studio. We can create from your favorite photos a beautiful 100 % handmade art painting.
Description
LebanonPostcard presents a professional art studio. We can create from your favorite photo a beautiful art painting… a masterpiece that will last forever!
1. All paintings are hand-painted
All paintings are 100% hand-painted by talented and professional artists. You can see by clicking here samples to check the Museum quality of the works, perfect customized portraits that you'll be proud to hang on your wall. We offer Watercolors, Oil paintings, Pencil sketches, Pastel drawing…
2. The prices of paintings from photos are very competitive.
We offer the very best value for your money. Our goal is to make portrait from photo affordable for as many customers as we can.
3. We guarantee 100% satisfaction.
When we finish the paintings, we shall send you photographs of the paintings by e-mail, then you can suggest any small modifications of the artwork to suit your taste.
Price (Price in USD):
Oil paintings – People Portraits
Oil paintings – Pets/Animal
Oil paintings – Landscape/House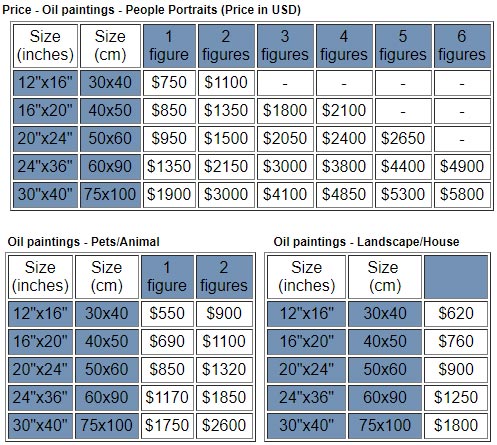 Steps to follow to order an artwork:
Step 1: Choose the sizes and subjects of the paintings (Please check the table sheet on this page)
Step 2: Send your photo and inform us of the size and subject you choose. Any special instructions are welcome. Send the information to info@lebanonpostcard.com
Step 3: One of our agents will contact you back.
Step 4: After confirmation, we shall request from you half the fee of the artist who will take charge and paint the work.
Step 5: When the painting is finished, we email you an image of it. You will have two days to request any small modifications if necessary.
Step 6: When you have approved the artwork, we shall request payment of the remainder of the fee.
Step 7: We deliver the artwork to your address. Your painting will be painted within 15 to 30 days. Shipment is done through DHL courier and the package takes between three and five days to arrive, according to the country it is sent to. Paintings are sent without frame and come rolled with care in a protective tube.
We already have many satisfied customers. Here are some sample paintings ordered by clients.